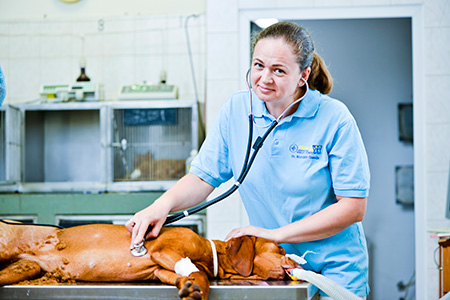 Dr. Oleszja Horváth
Pet specialist
Orvosi iskolák
Állatorvos-tudományi Egyetem
Gyakorlat / Rezidens
PrimaVet Kisállat-Rendelőintézet
Speciális szakterületek
aneszteziológia, bőrgyógyászat, általános sebészet
I graduated at the University of Veterinary Science in 1999. Beside my university studies, I regularly visited Primavet Clinic and gained practical experience here. I am working here since 1999. My main interests are, besides being a general vet, dermatology, additionally abdominal and soft-tissue surgeries. In 2006, I post graduated as a pet specialist vet; my thesis was about food allergy. Since 2011, I am responsible for controlling surgical anaesthesia at the Clinic.
Please ask for an appointment!
Our clinic is open on weekdays between 8 am and 8 pm, emergency duty is on weekdays between 8 pm and 10 pm, on Saturday between 9 am and 10 pm and on Sunday between 9 am and 8 pm.
Please ask for an appointment by phone or in e-mail for ultrasound examination, for neurologic consultancy or for MRI and CT examination.
+36 1 306 1364