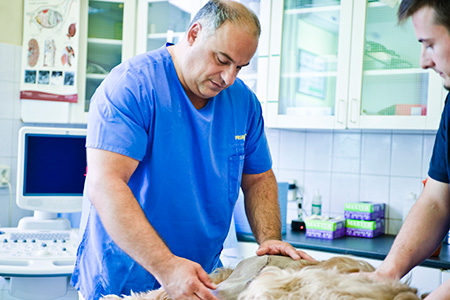 Dr. Zsolt Kendik
Pet emergency- and orthopaedic surgery
Orvosi iskolák
Állatorvos-tudományi Egyetem
Gyakorlat / Rezidens
hannoveri, ultrechi, helsinki, bécsi Állatorvosi Egyetemek, Állatorvos- tudományi Egyetem Sebészeti Tanszék
Speciális szakterületek
gerincsebészet, ortopédia- traumatológiai esetek (végtagtörése, csípőizületi dysplazia- protézis, korrekció) arthroszkóp
I graduated at the University of Veterinary Science in 1991. The topic of my thesis was: Application of a new fixateur extern system in small animals.
1991–2008: My first workplace was the Department of Surgery and Ophthalmology, University of Veterinary Science. Initially, I started to work together with Dr Zoltán Diószegi (recently assistant professor) in the new working section devoted to orthopaedic surgery, led by Prof József Tóth, head of the department. Later on, I became a leader of the section. Here, it was possible to work on the European level and introduce, use and teach a number of surgical methods new to Hungary. One example was to treat hip dysplasia in dogs: triple pelvic osteotomy, varisation osteotomy and later the self-invented total hip replacement, which uses a Hungarian prosthetic implant. In the early 2000s, we introduced arthroscopic surgeries as a further improvement.
In 2002, the construction of the new 1400-m2 Central Pet Clinic (KOK) begun at the former location of the Large Animal Clinic (which had moved previously to Üllő). I took part in the planning, in the consultations with the architect and later on, between 2004 and 2006, I played a leading role in the construction from the professional side. Afterwards, we equipped and started up the new clinic. Between May 2008 and May 2010, I was the sales manager of the Pharmaceuticals Business Unit of Alpha-Vet Kft, Hungary's leading company in veterinary pharmaceuticals trade.
On 1st May 2010, I became a clinician again at Primavet Clinic.
I held lectures in pet orthopaedics, a subtopic of the "Surgery", both in Hungarian and English at the University of Veterinary Science for 17 years. I became an assistant professor. As part of the pet specialist vet education, I am a lecturer of the courses Neurology, Traumatology and Orthopaedics since 5 years. I held professional lectures at several national and local chamber meetings.
I visited several times surgery clinics of universities in Hannover, Helsinki, Utrecht and Vienna in the framework of professional scientific exchange programs. I worked for one year at a pet emergency clinic in the USA. I am constantly participating at the annual meetings of the European College of Veterinary Surgeons (ECVS). My professional aim is to strengthen the excellent team of Primavet Clinic in the following fields:
spine surgery
orthopaedics
ligament injuries
dysplasia, especially hip dysplasia (psosthetic implants, corrective surgeries)
sprains
limb fractures
limb growth abnormalities
arthroscopy